LINDA RONSTADT
HEART LIKE A WHEEL
MFSL 1-472
180 gram Audiophile LP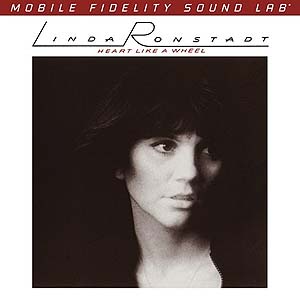 A Numbered, Limited-Edition, 180-gram LP, Sourced from Original Master Tapes.



Linda Ronstadt's 1974 breakthrough album remains a paragon of extraordinary performance, arranging, and songwriting and features an all-star instrumental cast and the singer at her best.



How to put the ageless appeal, artistic splendor, and imaginative instrumental variety of Linda Ronstadt's Heart Like a Wheel in proper perspective more than four decades after its original release? For starters, the 1974 landmark earned three major Grammy nominations and won for Best Country Vocal Performance - Female. But that feat pales in comparison to what the record did for Ronstadt, who became the decade's most in-demand, multifaceted, and cherished female singer soon after it captured the public's attention. Or the fact that it remains a paragon of songwriting, arrangement, and performance - a trifecta that still holds sway in this era or any.



Mastered on the world-renowned Mofi mastering system, this audiophile LP presents Heart Like a Wheel with astounding clarity, depth, and naturalism. Still the most difficult instrument to accurately capture, the female voice is here conveyed with transfixing realism, warmth, and feeling. The inner beauty of Ronstadt's flawless phrasing and passionate inflections bears out with obvious candor, her tonality and emotiveness pouring through every lyric and wordless expression.



Yet the advantages of this numbered-edition audiophile version extend far beyond the intimacy afforded Ronstadt's singing. Specifically, the majesty of Peter Asher's crafty arrangements now come to life like never before. Free of the fatiguing high frequencies and flat, dull responsiveness inherent on previous remasters and the original Capitol issue, respectively, this SACD reissue sets the sonic standard and lets the extraordinary instrumental blends blossom with openness, airiness, and organic textures.



While Ronstadt's interpretive skills and stunning vocals remain front and center, the all-star cast of California-based musicians that helped transform Heart Like a Wheel into a 1970s mainstream pop-rock staple - and a lasting example of the period's laid-back West Coast sound - cannot be forgotten. Glenn Frey, Don Henley, Emmylou Harris, Maria Muldaur, Herb Pedersen, David Lindley, J.D. Souther, and Andrew Gold are just a few of the luminaries that ensure the Billboard chart-topping set rests on an unassailable foundation. Asher puts everything in the right place and, in concert with the headliner, chooses a repertoire of standards that both shakes up traditions and pays homage to them.



The other secrets to the record's distinctiveness lie with Ronstadt's versatility and passion, her uncanny ability to inhabit every lyric with conviction and believability, and her graceful technique. As Stephen Holden stated in his review of the album for Rolling Stone in early 1975, "No other pop singer so perfectly embodies the Western mythical girl/woman, heartbroken yet resilient and entirely feminine in the traditional sense. There is a throbbing edge to Ronstadt's honey-colored soprano that no other singer quite possesses - the edge between vulnerability and willfulness that I find totally, irresistibly sexy."



Ronstadt indeed proves seductive and inviting throughout, whether on the bluesy reading of Clint Ballad Jr.'s "You're No Good," harmony-rich treatment of Hank Williams' "I Can't Help It (If I'm Still in Love with You)," folk-rock lilt of Lowell George's "Willin'," or soulful send-up of Phil Everly's "When Will I Be Loved?" Complete with piano, double bass, cello, viola, and fiddle, as well as support vocals from Muldaur, the cover of Anna McGarrigle's title track reinforces the one-of-a-kind expanse and all-for-one chemistry evident throughout the double-platinum effort - the kind of record they just don't make anymore.



SIDE A.
1. You're No Good
2. It Doesn't Matter Anymore
3. Faithless Love
4. The Dark End of the Street
5. Heart Like a Wheel




SIDE B.
1. When Will I Be Loved
2. Willin'
3. I Can't Help It (If I'm Still in Love with You)
4. Keep Me from Blowing Away
5. You Can Close Your Eyes
---


---

Mobile Fidelity Sound Lab
recordings are distributed in Australia by
Rockian Trading