fresh!FROM R.R.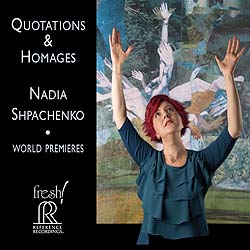 QUOTATIONS & HOMAGES
WORLD PREMIERES

NADIA SHPACHENKO


FR-726




SAN FRANCISCO - Nadia Shpachenko's latest Reference Recordings release Quotations & Homages features World Premiere recordings of works for solo piano, for piano and electronics, for speaking pianist, for piano with extended techniques, and collaborative works for 6 pianists (performed with RayKallay Duo, HOCKET and Genevieve Feiwen Lee) inspired by a variety of earlier composers and works. These fascinating new pieces come from eight notable modern composers: Tom Flaherty, Missy Mazzoli, Vera Ivanova, James Matheson, Nick Norton, Adam Borecki, Daniel Felsenfeld and Peter Yates.



Pianist Nadia Shpachenko-Gottesman has performed extensively in solo recitals and with orchestras in major venues across North America, Europe and Asia. Described by critics as a ׆truly inspiring and brilliant pianist … spellbinding in sensitivity and mastery of technique," Nadia enjoys bringing into the world things that are out of the box — powerful pieces that often possess unusual sonic qualities or instrumentation. Nadia's concert highlights include solo recitals at Carnegie Hall, Concertgebouw, Disney Hall and Bargemusic, as well as numerous appearances as a soloist with orchestras in Europe and the Americas. An enthusiastic promoter of contemporary music, she has been chosen to give world and national premieres of more than 60 piano, string piano and toy piano works. Her previous album on Reference Recordings, Woman at the New Piano (FR711, 2014), was nominated for GRAMMY® Awards in three categories: Best Classical Compendium; Best Chamber Music/Small Ensemble Performance, and as part of the body of work in the Producer of the Year, Classical nomination for Marina A. Ledin and Victor Ledin.



FRESH! is part of Reference Recordings' mission to encourage new artists and give them a strong platform for promotion and sales nationally and internationally.


Track Listing


[ 1] Tom Flaherty — Rainbow Tangle for piano and electronics 06:18
[ 2] Missy Mazzoli — Bolts of Loving Thunder for solo piano 08:31
[ 3 - 5] Peter Yates — Epitaphs and Youngsters, a melodrame for solo pianist
[ 6] Home 02:10 • Purpose 02:46 • Wilderness 01:31 • On the Whole 04:00
[ 7 - 11] Vera Ivanova — 6 Fugitive Memories for solo piano
[12] Composition No. 1 02:12 • Fugitive No. 2 00:54 • No "N" 04:54
Quasi una ciaccona 01:43 • Cimbalom Játék 03:31 • Debutie 02:06
[13] Nick Norton — Piano Piece for Mr. Carter's 100th Birthday 00:15
[14] Adam Borecki — Accidental Mozart for solo piano 04:31
[15 - 16] Daniel Felsenfeld — Down to You is Up for solo piano
[17] Good Times Just Seem to Pass Me By 02:28 •
So Cold / So Lonely 05:06 • Everything Was Alright 04:45
[18] James Matheson — Bagatelle for 6 pianists on 3 pianos, 12 hands 03:57
with Genevieve Feiwen Lee, Ray-Kallay Duo (Vicki Ray and Aron Kallay),
HOCKET (Sarah Gibson and Thomas Kotcheff), pianos
[19] Tom Flaherty — Igor to Please for 6 pianists on 2 toy pianos, 2 pianos, and electronics 10:32
with Genevieve Feiwen Lee, toy piano, Ray-Kallay Duo, HOCKET, pianos
---